So, you think you've become a pizza expert. You order from the best local pizzerias, you're on a first name basis with the delivery drivers, you know the difference between New York style pizza and Chicago style pizza. But are you a true pizza geek? Do you have the tools it takes to make your kitchen a pizza destination? We're here to help. Behold, a list of the best pizza gadgets to step up your pizza game, no tricks required.
Novelty Pizza Cutters
Ever wanted to feel as powerful as Paul Bunyan, as skilled as a lumberjack? Buy this axe-shaped pizza cutter and chop away.

Or, try a different kind of ax. Wail away on your pizza with this guitar-shaped cutter. You'll be a rockstar of the kitchen. Or a pizza geek. One or the other.

Prefer authenticity to novelty? Try pizza scissors. Cut your pizza the Italian way. Make your slices as big or as little as you want.

Finally, if you're looking for precision in your kitchen, try this stainless steel pizza wheel. With a 4.7 star rating and almost 1000 reviews on Amazon, it's a winner.

Pizza Transportation
As seen on Shark Tank, every gadget lover's favorite show, Green Box is a reconfigurable take on the traditional cardboard pizza box. The box, designed to reduce waste in food packaging, can become plates and size down to fit the amount of pizza being taken out. While this isn't exactly a gadget for your personal kitchen, tell your local pizzeria about Green Box.

Making your own pizza deliveries to parties or parks? Get your own insulated pizza bag. You'll keep your food hot and fresh while looking official.

Heating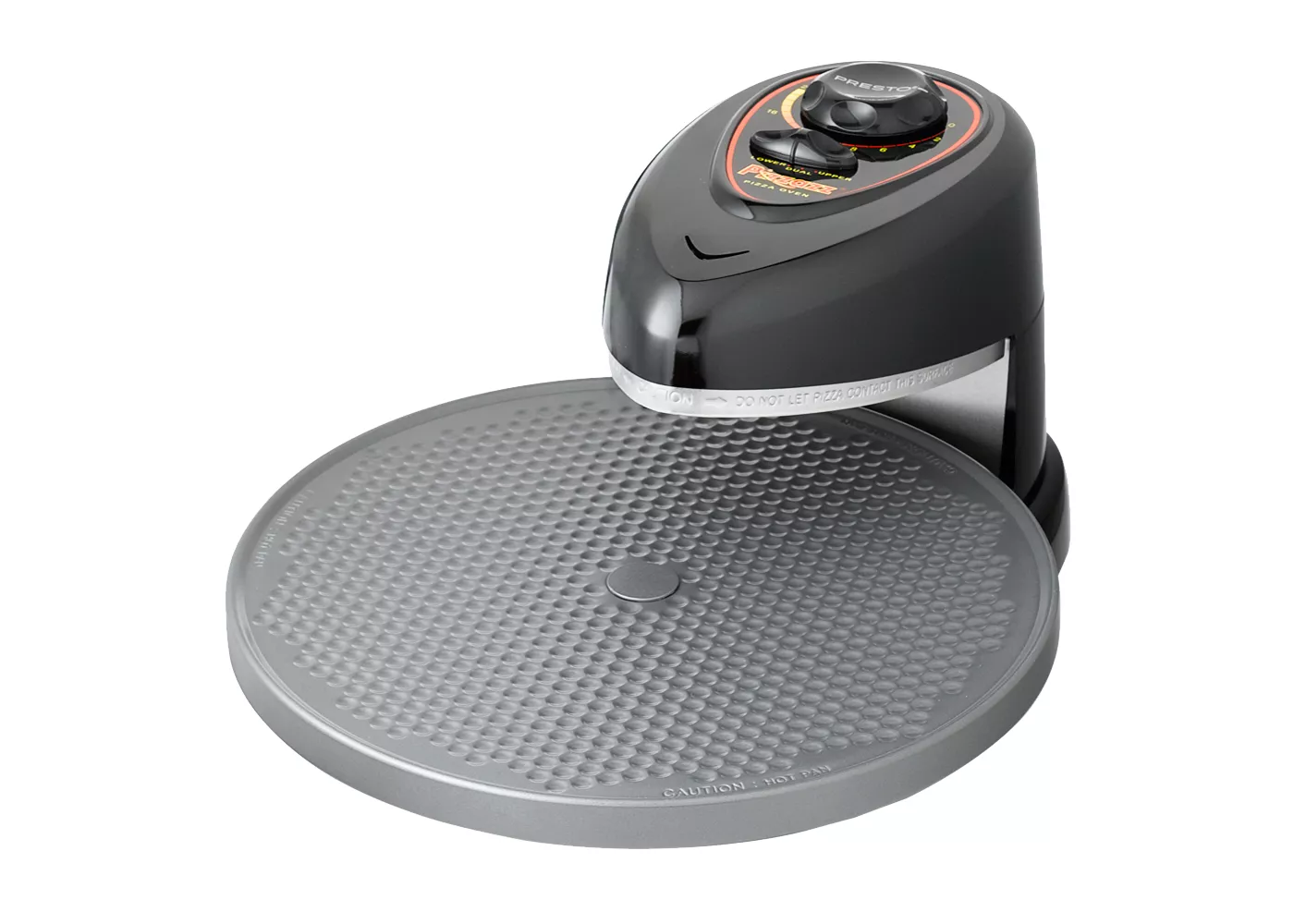 Presto Pizzazz Plus Rotating Oven
Is this the holy grail of pizza gadgets? For only $50, you can buy a countertop rotating pizza oven. Step up your reheating game with the Presto pizzazz. Instead of soggy, microwaved pizza, you'll have a crisp crust and melty cheese.

Looking for something a little less complicated than an entire oven? Try reheating your pizza in a crisper pan. The holes on the bottom allow heat to reach the crust, giving you the crunch your pizza deserves. Extend the life of your pizza delivery with this affordable tool.

— Alyssa Morris